Tasks You Can Outsource to a Virtual Assistant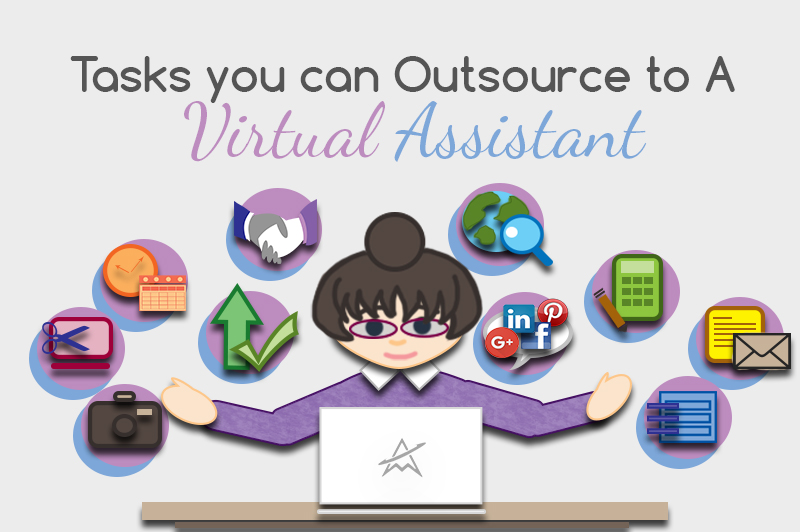 The internet is becoming so entwined on many people's lifestyle, such as their businesses. As more people begin their own businesses, both online and offline, the need for qualified virtual assistants grow. As a business owner, your time is best spent running and expanding your business instead of getting yourself exhausted with routine tasks and growing to-do lists. 
Virtual assistance services can reduce hours from your workweek. If you have a lot of tasks that you need to finish but you just don't have the time to get it done all by yourself, a virtual assistant could help you wrap everything up. If you're new to the whole idea, here are ten quick tips about virtual assistance to help you improve your business without getting bogged down from work hours. 
Database Entries and Presentations
What Can You Do with a Database? Databases can be used to: 
Analyze, collect, and manipulate data

 
Foster problem-solving activities (planning, organizing, categorization, dissemination, and logical thinking)

 

Create an environment for inquiry.

 

Classify and group data.

 
Even if it's just a collection of new business cards picked up at a conference or updated information for existing contacts, keeping databases updated is a suitable task for virtual assistants. Transcribing data into a PowerPoint presentation: A virtual assistant could do the slides for you and save you a few hours or summarising research findings in a Word document can be a huge timesaver when preparing for meetings. A virtual assistant can help you accomplish a good blog posting frequency. 
Managing Emails
Email is a very useful communication engine in business. Entrepreneurs are entitled to run their businesses from just about anywhere. To keep you from wasting time in your email inbox, some virtual assistants will filter your most important emails and respond to the rest on your behalf. Emails are probably one of the biggest time wasters for most entrepreneurs. It's best to have someone handle all of your emails. 
Bookkeeping
Bookkeeping involves the process of recording, analyzing and interpreting the financial transactions of a business or individual. Bookkeeping is not an easy task for entrepreneurs. It takes up a lot of time since it consists of recording bills, invoices, payments etc. Keeping tabs on bills and other bookkeeping matters can be one of the easiest things to assign to a virtual assistant. 
Social Media Tasks
Do you have an account on any of the leading social media platforms, such as Facebook, LinkedIn, and Twitter? If you do, you probably have a lot of comments or questions on these social media platforms. Social Media Tasks is a perfect duty for a virtual assistant, especially if you have more than one social media account. VAs can handle comments and questions simultaneously. They can also regularly share updates about your business. 
Online Research     

                                             
If you're doing research by yourself, why wouldn't you try someone else do it for you? Virtual Assistants can help you to do so.  If you're working on a project where you need to research various topics and subtopics, imagine how fast you would be able to do it if you already had most of the information. 
Common requests include finding information on corporate websites, exploring new products, looking up on competitive businesses and evaluating potential employees or business contacts.   The things you need to do are as follows: to provide clear instructions with user names and passwords, so assistants can get access to specialty search tools or paid websites for the research project and that's it. 
Client Relationship Management
Setting up potential business opportunities can be challenging. That can be a real task because it takes a lot of time and it requires creative effort. But you cannot afford to ignore your partners or clients. Virtual Assistants can help with the process. It's always a good idea to send a gift card to your clients on holidays and anniversaries. 
Your Virtual Assistant wouldn't even need a lot of information for this task. Sending out gift cards or holiday cards is really easy. You could even get your assistant to congratulate a partner or a client on a new job or deal, especially if your client or partner uses social media. 
Keeping Update to your Industry
What could be better for your reputation than staying in touch with the latest developments in your industry? Guess how much time it would take for you to do it alone? Too much time. Think about it, you probably admire companies which post the latest news and industry developments on Twitter or Facebook. 
 It's such an easy task for a virtual assistant. Any virtual assistant could get acquainted with your industry in a few hours max. With the help of a virtual assistant, you could have at least one news item every few days. This would do wonders for your reputation. 
Schedule Management
Every entrepreneur needs a secretary. A secretary answers calls and keeps an eye on your schedule. If there are places you need to go to and people that you need to call, its best if someone reminds you to do it. Many scheduling tools are available online; virtual assistants can help you manage your calendar. 
You'll complete your task a lot faster if you let your virtual assistant remind you. The tasks are dealing with meeting invitations from others, scheduling appointments with clients and helping to plan events. "It's about being comfortable and letting go of that calendar". 
Website Maintenance
Website is a set of interconnected Web pages, usually including a homepage, generally located on the same server, and prepared and maintained as a collection of information by a person, group, or organization. 
Websites require constant maintenance of some sort. And chances are, you aren't really an expert on web design or development. Having a virtual assistant for website maintenance puts you at ease since you're leaving a complicated task to a professional. 
Travel Research
Do you have a business trip? If you have ever traveled anywhere, you know what a hassle it is to find cheap airplane tickets. It's always cheaper to get tickets if you plan far ahead though. Instead of looking at airline websites every day to see if ticket prices have dropped, get a virtual assistant to do it for you. You can also get them to find good hotels for you to stay at. If you're very busy, you can get your virtual assistant to plan most of the trip for you. Specifically, they can find all the places worth seeing and all the possible car rental options. 
Imagine if you have a virtual assistant right now; all of these tasks could be done right now. If you're thinking of getting yourself a Virtual Assistant, we have just the right Virtual Assistants for you and your business. Contact us today! 
Ready to explore Account Master to grow?

Head Office:
Unit 9-10, 13 Collier Road, MORLEY
Western Australia 6062
PO Box 390, MORLEY, WA 6943

Operational Office:
Unit 408 The Centrale Bldg. Southpoint, Brgy.
Banay banay, Cabuyao City 4025
Laguna, Philippines

Extension Office:
20/F, Zuellig Bldg, Makati Avenue, Corner Paseo De Roxas, Metro Manila 1225, Philippines