TOP 10 GIFT SUGGESTIONS THAT YOU SHOULD GIVE YOUR CO-WORKERS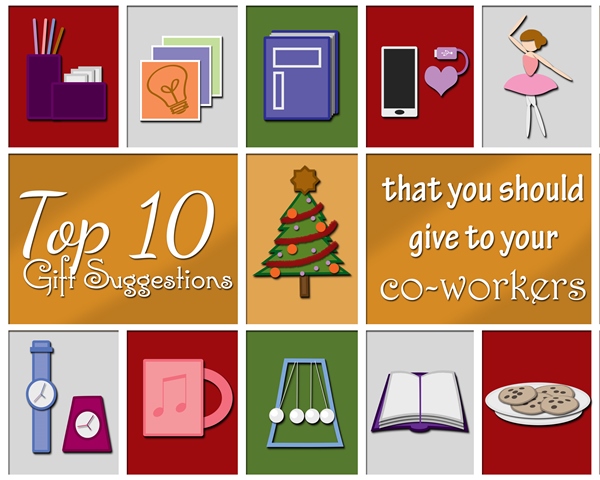 It's the season of giving, but do you know what you should give? Finding the perfect gift that your co-worker wants can be difficult since you know only a little about him, and we could feel very sad to see unsatisfied faces when they received our gifts. However, we can give them what they need at least. Below are the top ten gift ideas that your co-worker might just need this Christmas: 
Office organizers:

 These are those three-in-one or four or five-in-one storage baskets where you put your pens, phones, sticky notes, office supplies, phone, and pretty much about everything that fits your hand. These are always perfect for everyone's desks and shelves.

Gilt-edged Office Stationery:

 

You've been seeing those floppy-disk or radio, or television styled sticky notes, or those pens that have a little soft stuffed animal at the other end. These unlikely gifts can bring life to yourco-workers'office desk and can even lighten up a stressful mood.

 

Planners, notebooks & journals:

 These old-fashioned books never go out of style. Everyone needs something to write about and get reminded of things every once in a while. Planners, notebooks and journals are a great help to those co-workers who easily forget things, so you'll be giving them a hand on things as well.

Figurines:

 

Whether these are action figures, their favorite cartoon character, a cute stuffed animal or a random Victorian-styled lady with an umbrella, the figurines are always a great gift to give for just about anyone. After all, everyone likes to keep their places personalized.

Phone Accessories

:

 If people like to personalize their office desks, they would most probably love topersonaliseand upgrade their mobile devices. Give your co-worker something that fits their phones or tablets. You'd be glad to give them gifts like these as they would most likely often use it.

 

Clock or Watch:

 Time is gold and if you would like to give someone that's worth gold, give the time.  What better way to show that by giving them something to tell them what time itis.

Mugs

:

 Everyone in the workplace loves coffee, so give them something to blend with that. Specialpersonalisedmugs are a great gift to give for your busy-buzzy workmates. They could either use it at work or even at home, either way, it's convenient.

 

Novelty Items

:

 stress ball, mini golf set, or monopoly games are justthose kind of giftsthat everyone might just love. Something funny, unusual though fun to play with might just be what your co-workers need. After all, everyone needs to recreate every once in a while.

 

Books:

 

 Everyone loves books, even those who don't read that much, give them something interesting to read, they'll read it. Like planners, notebooks, and journals, Books never go out of style. Most people would still prefer the tangible ones rather than those that you can read on your gadgets.

Food

:

 

No one would most likely say no to food. Give someone a box of chocolate, cupcake or brownies, a basket of groceries or fruits or even a package full of chips. Food is both convenient, satisfying and wanted.
Don't forget to cover everything up with a nice wrapping paper, pin some ribbons and a attach a Christmas card with a personal and warm message. Spread the love this Holiday Season in the business that you love. Cheers and Happy Holidays!
Ready to explore Account Master to grow?

Head Office:
Unit 9-10, 13 Collier Road, MORLEY
Western Australia 6062
PO Box 390, MORLEY, WA 6943

Operational Office:
Unit 407-408 The Centrale Bldg. Southpoint, Brgy.
Banay banay, Cabuyao City 4025
Laguna, Philippines

Extension Office:
20/F, Zuellig Bldg, Makati Avenue, Corner Paseo De Roxas, Metro Manila 1225, Philippines