Six Reasons Why Office-based VAs are Better Catch than Home-based VAs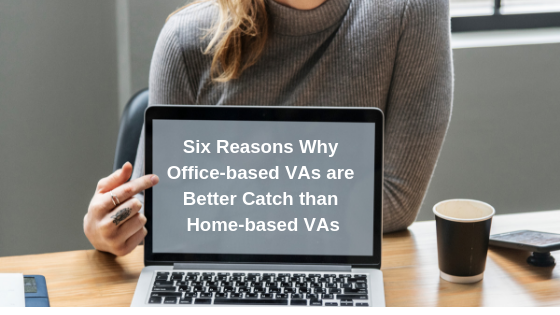 In this era of wireless communication and the Internet, time difference and location is no longer a problem for business entities, whether big or small, to avail the services of a Virtual Assistant. Its popularity to modern organizations had driven an increase on outsource workforce to threefold as the demand for offshore services kept on rising in the recent years. 
Outsourcing is a practice to which a company hires another company or an individual to perform tasks that can be done internally. Outsourcing business is constantly growing in the Philippines and India, where companies from the US, Europe and Australia seek offshore services for accounting, marketing, administrative and other tasks that can be done remotely by their virtual assistants. 
There are two types of virtual assistants – the freelance contractors who mostly work at the comfort of their homes and the office-based VAs hired by an outsourcing company. Though both types deliver an excellent job in performing their tasks; however, we will look into the advantages in hiring office-based virtual assistants over home-based assistants. 
Here are the five reasons why you should hire office-based VAs compared to home-based VAs: 
Expertise and Training
Outsourcing companies don't just hire employees and introduce them to clients to work immediately. They assure their clients that the VAs who will work for them are fully trained and knowledgeable with the tasks that will be assigned to them. An office-based employee trains at least 2-4 weeks before handling a client to ensure they meet the work expectations and have familiarity on their client's business, especially when they are working on specialized fields. 
Unlike the office-based employees, it is common for a freelance/home-based VAs to improve their skills only upon the request of their client. They just settle with their current knowledge and lack the initiative to get better unless they deem it as necessary. 
Contingency (back up) Plan
Office-based VAs are also regular employees – they are entitled to company benefits like annual and vacation leaves. To ensure that the client's operation remain undisrupted, the company trains a back-up person who will take over the assigned staff's task while he or she is away. Unfortunately for home-based VAs, they have no one to continue their job in case they have an unforeseen occurrence. This will lead to delay in services that will eventually create an unpleasant impact to the client's business operations. 
Technical Aspects
Aside from the knowledge and skills, it is quite essential that a VA have a good set of equipment – an updated computer system and high speed internet in a safe and ambient workplace is much ideal for this type of job. In order to maintain smooth workflow, companies employ professionals who deals with technical stuff like machine breakdown, intermittent internet connections and power outage as well as provide extra equipment to prevent lagging in the client's operation. It is unfavorable for a home-based employee to deal with technical malfunctions if they lack knowledge on repairing it. It will cost them time and money before they can go back on track with their job. 
Working Environment
Working in an office gives the employee the sense of urgency to perform the task as well as minimal distraction from their surroundings. While it is really rewarding to work in one's abode, working from home also have the downside of settling with outside distractions such as children playing, vehicles passing by and other kinds of interference. This kind of environment is not suitable for a continuous working condition – it will keep the home-based assistant's focus divided which will affect their productivity and performance. Focusing on tasks is really important in order to complete the job with minimal to zero errors, thus ambience and working conditions really plays a big part on achieving a high quality output. 
Separation of Professional Life from Personal Life
When one works in the office, all the professional stuff has to be done during office hours, leaving the job behind after-work to be continued the next day. Meanwhile, an employee working at home will have their attention diverted toward both their professional and personal life. They may pause on working with their tasks to cook or clean the house, feed their children, take a nap or have a longer break. They own their time so they can work at their own pace. Their dedication to work continuously is a lesser than those who works in an office. It takes a strong work ethic and discipline   for an employee to be free from all sorts of distraction and to not let their personal interests interfere with their professional commitments. 
Tax Deductible & Insurance on Legal Outsource Company
Most home based VA are not registered as a business therefore the payment made to them although maybe be cheaper than through outsource company is not tax deductible and cannot be declared as a business expenses. It may also means, the company books  in fact does not benefit financially & accurately when paying to undeclared expenses such as home based VAs. 
Outsource company also have business insurance, legal capability and professional indemnity insurance, so your company is secured for any unforeseen professional damages. 
These are the strong points of hiring a virtual assistant working for a company as compared to home-based assistant. It does not generalize the practices of home-based workers' community; the aforementioned reasons are based on the common difference observed between the two types of VAs and it does not involve the skills and capabilities of an individual.
Ready to explore Account Master to grow?

Head Office:
Unit 9-10, 13 Collier Road, MORLEY
Western Australia 6062
PO Box 390, MORLEY, WA 6943

Operational Office:
Unit 407-408 The Centrale Bldg. Southpoint, Brgy.
Banay banay, Cabuyao City 4025
Laguna, Philippines

Extension Office:
20/F, Zuellig Bldg, Makati Avenue, Corner Paseo De Roxas, Metro Manila 1225, Philippines