14 MISCONCEPTIONS ABOUT VIRTUAL ASSISTANTS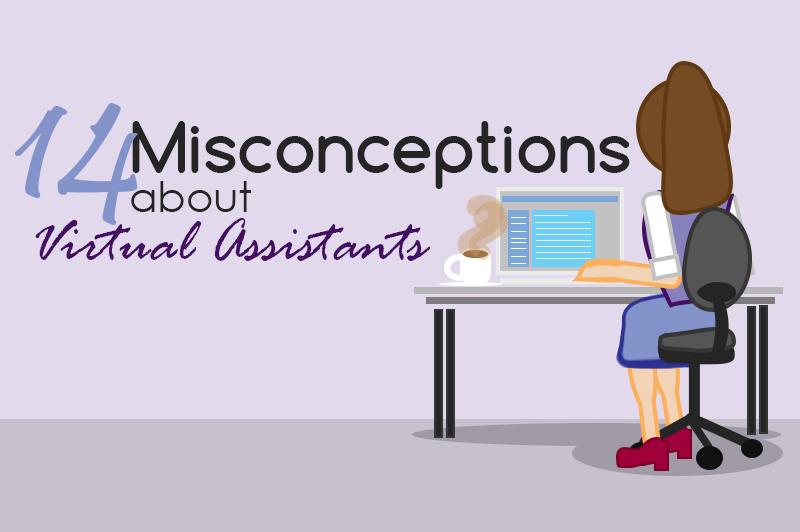 A lot of things in life are often covered with misconceptions to which most people often mixed them up with what is real. When people believe in misconceptions, even though these are not true, they will try their best to avoid all options that involve it. However, avoiding it due to misconceptions might cause you to miss a great deal or the right solution to your very needs. So be careful. 
Unfortunately, Virtual Assistants weren't able to escape misconceptions, so don't try to avoid them. The vastly growing outsourcing industry might be the key to lessen that pile of paper works on your desks. 
Here are the 14 myths about Virtual Assistants and why you shouldn't believe them: 
Virtual Assistants are Work-at-home potato couches: 

This is not entirely true. Keep in mind that there are virtual assistance agencies so that pretty much means that they have an office space. VAs who don't work in an agency may either rent themselves a solo office space or reserve an office room at home for them to work in a comfortable and professional environment.

Virtual Assistants wear pajamas while working:

 This is 100% false. VAs treat themselves as if they're your co-workers so they are very much aware that they need to dress to the norm. Even though there are those who are inches away to the wardrobe, VAs would still keep it in their mind to dress to impress you.

Virtual Assistants are for temporary projects only:

 They can be but lot of VAs who are up for long-term projects, especially those who are working in an agency. Most VAs actually prefer long-term projects as it gives them an opportunity to open a healthy business relationship with their clients.

You can only outsource administrative tasks to Virtual Assistants:

 VAsarea hundred percent capable of doing executive tasks for you, but they are also two hundred percent capable of performing more than that, so don't exclude their other abilities. You'll never know when they would surprise you with those.

 

Virtual Assistants can only handle data entry and simple tasks:

 They can but, as stated before, they can do more than that. VAs can market for you, manage your social media business pages, do graphic works,organiseyour itinerary, reply emails for you and so much more. Find out the 

tasks that you can outsource to your VA.

 

Having a Virtual Assistant adds more work and consumes too much time:

 At first, but in the long run, you'll find yourself at ease. Provide about 3 to 5 days to sit with your virtual assistant and discuss all the tasks he/she would need to do for you. It should be enough to get them running. It might take up hours or so, but sacrificing 3 to 5 days is a lot less painful than a month or more of errors and complications.

Virtual Assistants take too long to finish a task:

 If you would refer to the previous misconception, that's likely the reason why. VAs only take up a lot of hours to finish a task because they can be very hesitant. When they are not sure if what they're doing is right or wrong, they would look it up in the internet just to be certain that they would send you quality results, causing a lot of hours to be lent at the time of researching and verifying. If you had thoroughly discussed the task, it might only take less than an hour for them to finish what you've asked for.

Virtual Assistants cannot be trusted with confidential information:

 It's very reasonable why clients wouldn't let VAs handle confidential documents, but that doesn't mean they can't be trusted with it. VAs know how to maintain privacy as much as you do and understand the consequence of exposing such files. In fact, VAs might also be able to help you file and keep them in a more secure storage.

Professional Virtual Assistants can only be hired through contact job sites likeOdesk:

 It's true that you can find professional VAs at websites like Freelance.com, Upwork, andOdesk. But that doesn't mean they're the only ones. Virtual Assistance Agencies have their own website for you to explore around, like 

Account Master's

 

website. There are a ton of sources in the internet where you can find the right VA for you, so don't hesitate to go outside the border.

 

Hiring a Virtual Assistant is expensive:

 It does if you've purchased "Pay-as-you-go" services. If you're aware that you would be outsourcing a lot of tasks to your VA, make sure you'd purchase a service for long hours or days. Though some virtual assistance agencies do cost a lot of money, there are still some that are just right for your wallet. As stated on the previous misconception, there is a number of VAs out there. Surely, one of them would fit your budget.

Virtual Assistants are for Large Companies only:

 Did you know most large companies today that started small still have their VAs since the very beginning of their business? VAs make companies healthy until they are big enough for more VAs to be hired.Soif you're a small business, don't hesitate hiring a VA. They might be the key to get your sales hiked up.

 

Virtual Assistants lack Work Quality:

 VAsareactually like Chefs in a 5-star restaurant – they don't like serving food that aren't so tasty to them. VAs always make sure to provide the best services as possible as they know they don't have any environmental reasons why they can't get the work done.

 

Virtual Assistants ask too many application and soft tools:

 Yes, VAs will tend to ask you to download this, sign-up for that, subscribe here, login there, but these applications are only a handful. Common professional VAs would only ask you to download cloud storage, skype or any video communication tool, and an emailing platform. If VAs work in an agency, they would also ask you to sign up on their database website. Some VAs would even let you decide what applications you would want to use to make sure both of you are comfortable with work.

It's very complicated to communicate with a Virtual Assistant:

 Perhaps due to cultural differences or the extra noise you hear when speaking to the phone makes things unclear for both

of you. Both bear in mind that VAsare very patient when they try to understand the instructions you give them. If voices over calls are unclear, the internet provides a lot of alternatives. If you're going to discuss the task, make sure to leave a file of instructions, even if they had taken down notes.

 
So if you know you're going to need someone whom can virtually get the job done, don't hesitate for a second. VAs might just be the ones whom can help you come up with the right solution. They're always on the go for you no matter what the task. 
Stop having second thoughts about it. Hire your VA today. Contact us and we'll get you the right VA to get right started! 
Ready to explore Account Master to grow?

Head Office:
Unit 9-10, 13 Collier Road, MORLEY
Western Australia 6062
PO Box 390, MORLEY, WA 6943

Operational Office:
Unit 408 The Centrale Bldg. Southpoint, Brgy.
Banay banay, Cabuyao City 4025
Laguna, Philippines

Extension Office:
20/F, Zuellig Bldg, Makati Avenue, Corner Paseo De Roxas, Metro Manila 1225, Philippines